we are currently working on: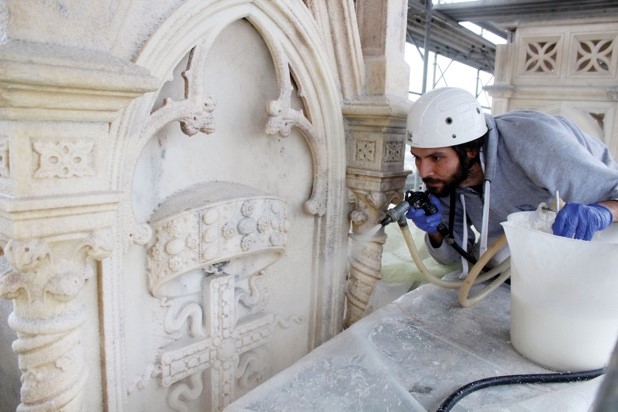 Treatment of degraded limestones with ammonium phosphate and ammonium oxalate
This treatment represents the most interesting scientific prospect for the protection of calcareous-based materials. The advantages of this treatment are derived from the protective behavior of the natural oxalate patinas found on countless stone materials exposed to the outside environment. The method developed by Professor Matteini therefore envisages artificially inducing the formation of these protective layers. The product is applied in a cellulose pulp compress. This type of treatment is implemented internationally due to the following advantages: great compatibility with calcium carbonate and great durability, very low solubility to acid solutions, surface fixative effect, de-sulfating effect, reversible.
we are currently working on: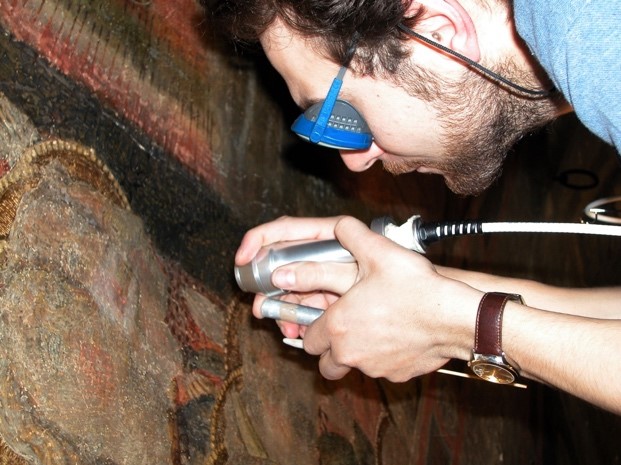 Use of lasers for cleaning works of art
The use of lasers for cleaning works of art finds its motivation in the characteristics that distinguish this procedure from traditional cleaning:
– Minimal invasiveness: without the use of chemicals or abrasive materials, it is treated without any contact.
– High control: only on the degraded layer, operating with the utmost precision.
– Extreme selectivity: the alteration layer absorbs light, the substrate reflects it, so as to limit or stop the action of the laser.
– Very high precision: fiber optic lasers allow you to treat complex patterned surfaces.
In partnership with ESTIA Srl, we have successfully used this type of cleaning not only on stones but also on frescoes (Siena, Santa Maria della Scala, Sagrestia Vecchia)
we are currently working on: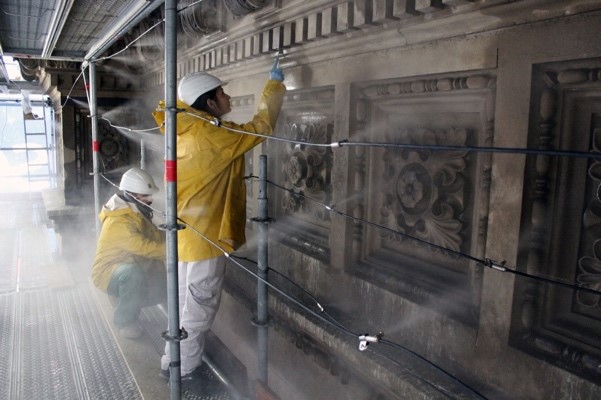 Cleaning with atomized water
This method associates a good cleaning of stone surfaces with the elimination of soluble salts from the surfaces. The water exerts a chemical action by dissolving the gypsum and secondary calcite which are mostly the binders of the crust, which can thus be eliminated. The air conveyed under pressure to the nozzle reduces the size of the water particles making them smaller, so as to improve the penetration into the dirt and the consequent cleaning performance. This method, unlike cleaning with sprayed water, uses much less water to achieve the final cleaning effect.
we are currently working on: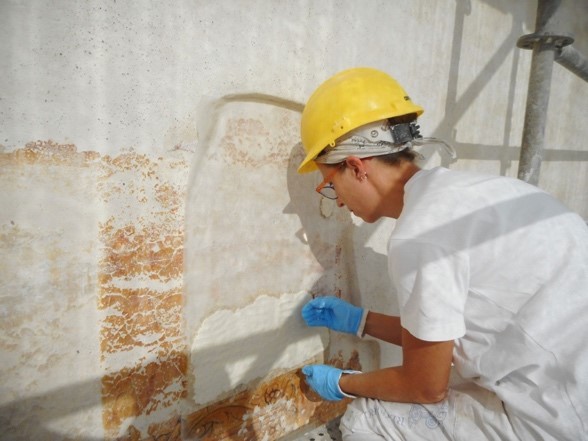 Treatment with barium hydroxide for frescoes and fine plasters
This method was developed in Florence after the 1966 flood to solve the problem that plagued the frescoes attacked by calcium sulphate. Barium hydroxide reacts with carbon dioxide forming barium carbonate, a salt with a very low solubility in H2O, which gives a consolidating effect; it also reacts with calcium sulphate present in many frescoed plasters (efflorescence), to give barium sulphate, an extremely insoluble salt. The application of this product is generally done with a cellulose pulp compress and must be performed by operators with experience in the field.